The Ozona Chamber of Commerce would like to wish the following members a Happy Anniversary and thank them for their support of their community, our organization and it's programs and services.
Our sincere appreciation goes to:

APRIL
Knox Floor Covering 1965
Mr. & Mrs. Pleas Childress 1996
Crockett County Abstract Company 1997
Thomas Cameron, Attorney at Law 1997
T-Bar Drilling 2007
Mr. Charles McCleary 2006
Sonic Drive-In 2006
CC Wrecker 2010
Ozona Mercantile 2010
Robert Massie Funeral Home 2010
X-Bar Ranch 2010
El Chato's 2011
Howard's Well Ranching Company/Pierce Ranch 2011
Dublin Ranch 2011
Sam's Club 2011
Family Health Center of Ozona 2011
Giles & Becky Davidson Madray 2011
J. D. Crowder Contract Pumping & Consulting 2011
Jarrett Juno Ranch 2012
Shannon Air Med 1 2013
---


The Ozona Chamber of Commerce
Recognizes
John Stokes, CPA
as the
Business of the Month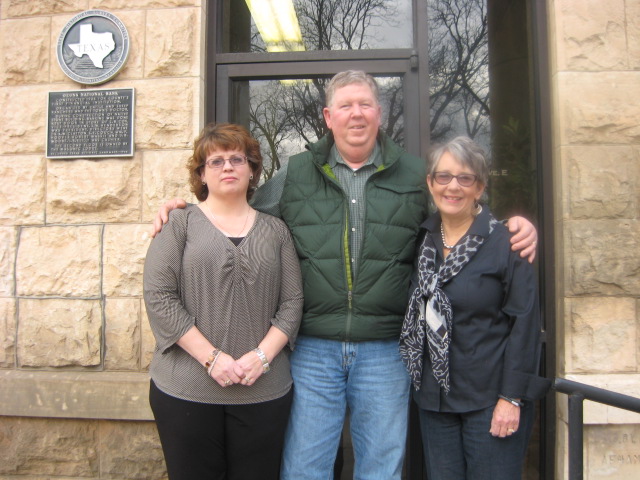 Wendy Tambunga, Sandy Stokes, & Jill Crawford
"When people ask me what I do, I just tell them I talk on the phone and write on green paper all day!"

John "Sandy" Stokes graduated from Ozona High School in 1966, and from Texas Tech in 1970. "Then I got an invitation from Uncle Sam, and was drafted in the service for two years," said Sandy. "The best thing about that experience was getting to see Germany! I came back to Texas, and worked for a CPA firm in Midland for six years. I went to graduate school at the University of Texas of the Permian Basin and got an MBA in Business Administration." By 1975 Sandy had completed required education from the American Institute of CPA's and was board certified with the State Board of Public Accountants.

Sandy then came back to Ozona. "I'm just a small town boy at heart. Midland was even too big for me! So I came back to Ozona where I wanted to make a difference. Finally an opportunity came up that would allow me to make a living here. I opened my business, in this same spot, 35 years ago in 1979. This is the old Ozona Bank Building, one of four buildings (jail, courthouse and Heritage-high school) built by the architect, Oscar Ruffini."

Sandy served as the Crockett County Auditor from 1988-2010.

"Sandy's wife, Vicki, was a school teacher in Dallas and her grandmother was a teacher in Big Lake. She wanted to be out in this area and applied for a teacher's position in Ozona, and replaced 3rd grade teacher Mrs. Madeline Stokes. My brother and a friend arranged for a blind date to a New Year's dance, but nothing really came out of it. It wasn't until the following fall that we ran into one another again, and six months later we were married!" Sandy and Vicki have two children, John Austin and Wilson, both of San Angelo. "We have one grandchild that is two years old."

Those that know Sandy are aware of his love of reading, history and music. He plays the mandolin and fiddle, and performs with the Way Off Broadway Players of Eldorado providing background music.

Stokes CPA is located on the town square in the old Ozona Bank Building. It is open for business Monday through Friday from 8am to 5pm, and Fridays from 8am to noon. Stokes CPA provides payroll tax, sales tax, and income tax services. In addition, they can assist you in setting up your books, or keep your books for you.

Employees of Stokes CPA are Wendy Tambunga, Office Manager and Jill Crawford, Bookkeeper. You can reach Stokes CPA at 325/392-2711, by fax at 325/392-3714 or by e-mail at stokesjohn@aol.com.
The Chamber of Commerce would like to recognize Stokes CPA for their efforts to provide quality service in addition to being an added asset to the local business community.
---

Print Friendly