The Ozona Chamber of Commerce would like to wish the following members a Happy Anniversary and thank them for their support of their community, our organization and it's programs and services.
Our sincere appreciation goes to:


APRIL
Knox Floor Covering - 1965
Crockett County Abstract Company - 1997
Thomas Cameron, Attorney at Law - 1997
Family Health Center of Ozona - 1998
Charles McCleary - 2006
J.D. Crowder Contract Pumping & Consulting - 2006
Howard's Well Ranching Company - 2010
Ozona Mercantile - 2010
Giles & Becky Davidson Madray - 2010
Robert Massie Funeral Home - 2010
X-Bar Ranch - 2010
Sonic Drive-In - 2011
Dublin Ranch, LLC - 2011
Sam's Club - 2011
Jarrett Juno Ranch - 2012
Shannon AirMed1 - 2013
Kelly W. Walker - 2014

The Ozona Chamber of Commerce
would like to recognize
Encino RV Park as our
Business of the Month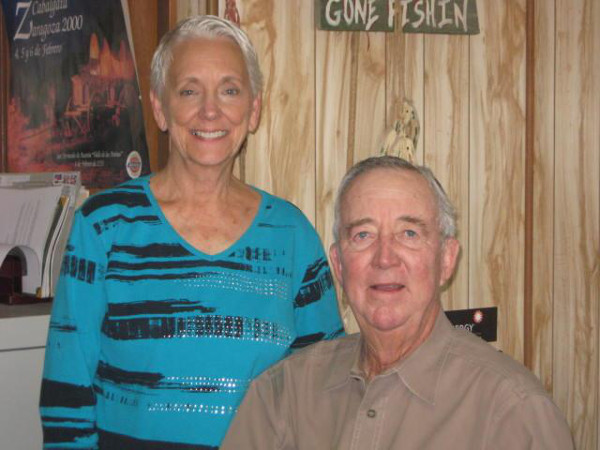 The Chamber of Commerce would like to recognize Encino RV Park as our Business of the Month.
Encino RV Park opened to the public in June of 2012. It is owned by Bill and Susie Black, and managed by Joe D. Friend.
"A friend of ours needed a place for his men to live while working on a pipeline project. According to him, building an RV park was easy enough. Just pick a good spot in the pasture and get busy! There was actually more to it than that, because the "good" spot we selected was on solid rock," said Susie Black.
"We have met lots of good people during our short time in business," says Susie Black. "The first couple to move in with us came before the park was completed. They lived beside our loading chute, next to the pens of sheep for a month. The day the park was ready, Bill hooked onto the trailer and moved the wife into the park."
The RV Park has 19 pads featuring 30 and 50 Amp services with full hook-ups including electricity, water, sewage and Wi-Fi. All spaces have room for a personal vehicle and are landscaped. Pets are allowed.
"During this last little oil boom, we were completely full for over a year," said Bill Black. "We have had people from California, Arizona, and a number from Canada. We see a lot of east bound traffic. Most are
going to the Texas coast or Florida to fish!"
"We also see them on their way back home," said Susie.
The Chamber of Commerce would like to recognize Encino RV Park for providing a business of quality that is an asset to the local business community.
The Encino RV Park is conveniently located at 1308 Sheffield Road, and guests can easily access Interstate 10 West. For more information you may contact the Encino RV Park at (325) 392-2142 or (325) 226-2709.
---

Print Friendly