The Ozona Chamber of Commerce
presents the
5TH BI– ANNUAL
SOUTH WEST TEXAS OIL & GAS
TRADE SHOW
SEPTEMBER 30TH-OCTOBER 1ST, 2015
OZONA, TX
Click here for the Registration Form


The Ozona Chamber of Commerce would like to wish the following members a Happy Anniversary and thank them for their support of their community, our organization and it's programs and services.
Our sincere appreciation goes to:


JULY
Crockett County Water Control & Improvement District #1 - 1999
Pon Seahorn Real Estate - 2000
Sonora Bank - 2004
T-Bar Drilling - 2007
Treto's Tire & Towing - 2009
Catherine Paige Skehan - Attorney at Law - 2012
Diamond P Land & Cattle Co., LLC - 2012
Eldorado Animal Clinic - 2012
Ozona Cable & Broadband - 2012
Moran Construction - 2012

The Ozona Chamber of Commerce
would like to recognize
The General Store as our
Business of the Month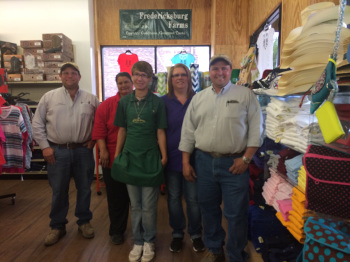 Left to right: Russell Crenwelge, Lori DeHoyos, Trystian Galindo,
Cheryl Galindo & Cole Crenwelge
The Chamber of Commerce would like to recognize The General Store as our Business of the Month.
The General Store opened to the public on October 7, 2013. It is owned by Russell and Cole Crenwelge and managed by Cheryl Galindo. Store hours are Monday through Saturday, from 9:00 am to 7:00 pm, and Sunday 1:00 pm to 6:00 pm.

"We have seven employees that play a huge role in keeping the store clean and stocked," said Manager Cheryl Galindo. "They are our Assistant Manager, Bertha Rivera, Data Entry and Loader is Lori DeHoyos, and our Clerks are Jo Ann Galindo, Rebecca Galindo, Trystian Galindo, Jonna McDonald, and Lisa Villarreal."
"We started out looking for some way to repurpose and renovate the old Dudley Building downtown on the square to help revitalize Ozona's beautiful downtown area," said owner Cole Crenwelge. "We saw a need around town to bring in a variety store after Ozona lost Duckwalls, and thought we would like to try to fill that need because a lot of people didn't want to have to travel to San Angelo for just one item. We hope that we have provided a clean, friendly, and courteous shopping experience to the whole community.
"There are a variety of products in stock including school and office supplies, apparel and footwear, grocery items, Gandy's products, cleaning and cooking supplies, Whirlpool appliances, toys and games, knitting, crocheting, sewing supplies, camping and beach supplies, health and beauty products, a dollar item section, baby supplies, and many other items needed for your home," said Cole.
"We appreciate the community's support for the past two years. We are glad that we can continue supplying the community with a clean, friendly, courteous, and a great family shopping experience. From all of us at The General Store, to our local residents and surrounding communities, thank you!"
The Chamber of Commerce would like to recognize The General Store for providing a quality business that is an asset to the community.

For more information, you can contact The General Store at 325/392-3202.
---

Print Friendly