Let us kick off your Easter weekend
Make your Reservations NOW
We'll do the cooking and provide the entertainment!

Hang Your Hat at the 52nd Annual
Chamber of Commerce Banquet
Thursday, April 2nd,
from 6:00-8:00 p.m.
at the
CIVIC CENTER
The Ozona Chamber of Commerce invites you to
JOIN US at our 2015 annual banquet.
Come on out and visit with ye ole friends, and meet new friends. Members have an opportunity to network with one another, and guests are welcome. Enjoy a great meal and an informative program. Help us to recognize the BUSINESS OF THE YEAR, and support the One Act Play with their last rehearsal before actual competitions.
Other evening highlights include a short reception, buffet dinner (sliced braised beef tips, grilled chicken, tossed & fruit salad, green beans, squash, mashed potatoes, homemade rolls, iced tea, lemonade or water, peach cobbler and banana pudding) and a brief Chamber program including the Business of the Year.
Reservation deadline is Monday, March 30th. Tickets are $15 per person. Reserved tables of 6 are $90. Call 392-3737.
Brought to you by our SPONSORS to whom we are very grateful!
Entertainment will be the
Ozona High School
One Act Play:
"The King Stag"
A fairy tale that includes mystery, drama, magic, action and humor. A king searches and finds his beloved bride, who it turns out is loved by another. Those closest to the king plot and unleash a terrible plan tricking the king not only from his throne, but out of his own body! They say that all fairy tales have a happy ending. Join us to see how this story ends!

The Ozona Chamber of Commerce would like to wish the following members a Happy Anniversary and thank them for their support of their community, our organization and it's programs and services.
Our sincere appreciation goes to:


MARCH
Burl Myers, C.P.A. - 1984
KYXX Ozona 94.3 FM Real Country - 1996
Travelodge - 1996
Wool Growers Central Storage - 1996
Circle Bar Truck Corral - 1997
John Stokes, C.P.A. - 1997
Ozona Country Club - 2000
Triple C Hardware Lumber & Rental, Inc. - 2002
Upham Insurance Agency - 2004
Escondido Draw Recreational Area - 2008
Texas Farm Bureau Insurance - 2009
Will M. Black Real Estate - 2010
Natgas, Inc. - 2010
Baker Acre Enterprises - 2012
Ozona Flour Mill & Goods - 2012
CC Wrecker Service - 2012

The Ozona Chamber of Commerce
would like to recognize
Hospice of San Angelo as our
Business of the Month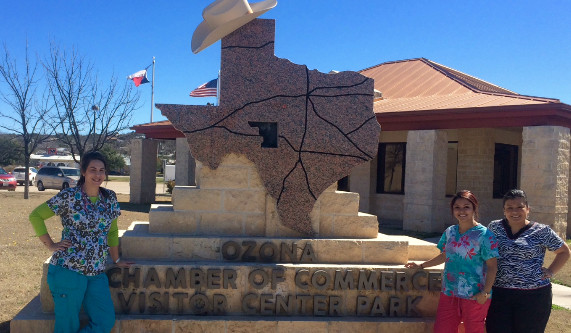 Nurses serving Ozona left to right: Anna Fitzgerald, Cristy Rodriguez, and Rosemarie Romero.
Hospice of San Angelo started in 1982 as a project of the Junior League of San Angelo. The first three years of this project included a lot of research and planning and in 1985 Hospice of San Angelo accepted its first patient. Three promises were made to that patient: 1. We will control your pain and symptoms, 2. We will put YOU in charge of your treatment, and 3. We will walk with you on your journey. Those same three promises have been made to over 10,000 patients that have been served in the 30 years Hospice of San Angelo has been in existence.
Originally Hospice of San Angelo served the city of San Angelo and a 15 miles radius surrounding it. Today it serves 15 counties in the Concho Valley, including the city of Ozona in Crockett County. With such a large service area, nurses are hired that live in the outlying communities to better serve the patients. By doing this patients are not waiting for someone to drive from San Angelo when they have a need. Hospice of San Angelo currently has 56 employees to serve its patients and families.
Hospice of San Angelo cares for any individual a physician certifies has six months or less to live. Of course, some will live much longer than six months as this is by no means an exact science. In fact, with hospice care, an individual's pain and symptoms are sometimes so well controlled that they improve and are able to 'graduate' from hospice services because they are doing so well. Hospice patients are cared for in the setting that they choose, whether that be their home, a nursing home, or even the hospital. Executive Director, Gina Councilman, says, "In meeting the patient where they live, we can give them the care they need in the setting that most closely aligns with the wishes they have for their last days."
Once on service with Hospice of San Angelo, the staff works with each patient to develop an individualized plan of care based on their goals. Pain and symptom management are always a top priority but much more than that is also addressed. Nurses and physicians concentrate on the pain and symptom management, but other disciplines are available to provide care as well. CNAs are available to help with the daily care of the patient, such as helping with a bath or shower. Chaplains address the spiritual needs of the patient, no matter what their belief system is, and social workers help address any psycho-social needs, such as helping a patient apply for Medicaid. Hospice of San Angelo also has an outstanding bereavement program that serves hospice patients and their families, as well as people from the community that have not otherwise used hospice. In addition, there is a full-time children's bereavement coordinator that helps children deal with grief, both in one-on-one sessions and through a children's bereavement program that is held each Fall and Spring called Building Bridges. This is a six-week program that is open to any child in grades K-12.
All of these services are provided at no charge to the patient. Medicare, Medicaid and private insurance are all funding sources for hospice care and Hospice of San Angelo accepts that as payment in full. The patient will never receive a bill from Hospice of San Angelo. All of these funding sources pay a set amount for each day of care provided. Some of the patients require more interventions and care than this per diem rate covers. Also, there are patients that have no funding source. "We provide the same level of care to all patients, knowing that for some we will not receive any payment. That is where community support comes in. We rely on the support of those in our community to help cover the costs we incur to take care of these patients," says Executive Director Gina Councilman. Hospice of San Angelo is a non-profit organization and gratefully accepts donations, memorials and bequests.
Gina says of the consultation process at Hospice of San Angelo, "We are always available to meet with you to discuss our services and evaluate the patient for hospice appropriateness. There is no cost for this consultation and there is no obligation to enroll in hospice. It is our desire to simply provide enough information to allow people to make an informed decision on the care they seek." If you believe that hospice might be right for you or a loved one you can contact Hospice of San Angelo at 325-658-6524.
The Ozona Chamber of Commerce would like to recognize Hospice of San Angelo for their continued effort to provide quality service and for being an asset to our community.
---

Print Friendly