The Ozona Chamber of Commerce would like to wish the following members a Happy Anniversary and thank them for their support of their community, our organization and its programs and services.
Our sincere appreciation goes to:


FEBRUARY
Roy Harrell Ranch - 1995
Economy Inn & RV Park - 1996
Southwest Texas Electric Coop - 1996
The Ozona Stockman - 1996
El Chato's - 1996
Mr. B. E. Cleere - 1996
Super 8 Motel & RV Park - 1996
Lowe's Market - 1996
Clayton-Hill Ranches - 1996
Joe Bean Ranches - 1996
Ozona Insurance - 1996
Village Drug - 1996
Mr. & Mrs. L. B. Cox, III - 1996
Upham Insurance Agency - 1996
Steve Kenley - 1996
Mrs. Dick Kirby - 1996
Double "T" Ranch - 1997
Baggett Family Limited Partnership - 2004
Mr. & Mrs. Bob Falkner - 2004
Ozona Truck Trailer & Emergency Repair - 2007
Debbie Forehand Wilson, Realtor - 2010

The Ozona Chamber of Commerce
would like to recognize
UniFirst
as our
Business of the Month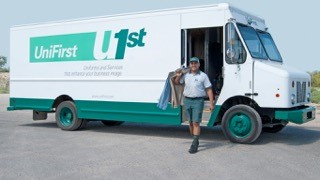 UniFirst was founded in 1936 by Aldo Croatti, a hard working entrepreneur who provided uniform services to Boston area businesses. Always conducting business according to a customer-focused set of "core values," Aldo, along with his son and current UniFirst CEO, Ronald, led the company to become one of the largest, most successful textile service organizations in the world. Employing over 12,000 team partners in order to provide services to over 1.75 million workers week after week.
Locally, UniFirst employs a team who is focused on maintaining the long standing and mutually rewarding partnership we have with our Ozona area customers: Chris Herrera (Route Sales Rep.), Danelle Espinoza (Customer Service Rep.). Also, overseeing operations: Abel Flores (District Service Mgr.), Amy Ramirez (Office Admin.) and Alex Villasana (Branch Mgr.). Providing service to over 60 customers in the Ozona business community from large to small (e.g. Hitchin Post Steakhouse, El Chato's, DCP Midstream, J. Cleo Thompson, Key Energy, Lilly Construction, Triple C Hardware, etc.).
The primary factors that distinguish UniFirst from our competition is our rich family culture and our founding "core values" consisting of customer focus, respect for others, and commitment to quality. Each year, upon our founders anniversary, all team partners take pride in a customer pledge that states: "Customers are the focus of everything I do. I, therefore, pledge my best efforts to exceed my internal and external customers' expectations and to assist my team partners in achieving their very best…ensuring that every UniFirst customer becomes a customer for life."
There are a number of companies you can choose from to satisfy your workwear and facility service program needs; but there must be valid reasons why UniFirst is the leading provider in the Ozona business community. Responsive customer service is the key to an effective program and no other company provides customer-oriented service better than UniFirst!
We welcome the opportunity to earn your business and become a "customer for life". For more information about our company, products and services, please visit our company website at www.unifirst.com .
For immediate personalized assistance, please feel free to contact us at 325/651-4626 to schedule your FREE VIP Cost Analysis of your business and/or we can help you optimize the value of your current program.
Thank you, from your UniFirst San Angelo team!
The Ozona Chamber of Commerce would like to recognize UniFirst as an asset to our business community and for the quality service provided to local businesses.

Print Friendly