The Ozona Chamber of Commerce would like to wish the following members a Happy Anniversary and thank them for their support of their community, our organization and it's programs and services.
Our sincere appreciation goes to:

NOVEMBER
Crockett Automotive - 1999
Crockett County DeerFest Association - 1999
Stokes Drilling Company - 1999
Harrison Interests, LTD - 1999

Perner III, Ginger & Paul - 1998
VIP Ranch Company - 2001
Sutton County Steakhouse - 2006
T & C Wholesale - 2008
Western Poster Service, Inc. - 2008
West Central Wireless - 2008
Diamond P Land & Cattle Company, LLC - 2013
Gypsy Chix Boutique - 2013
Collett's Gun Shop & Machine Shop - 2013

Mathews Processing & World Class Taxidermy - 2013

The General Store - 2013
---
Chamber of Commerce
recognizes
Lowe's Market
as our
Business of the Month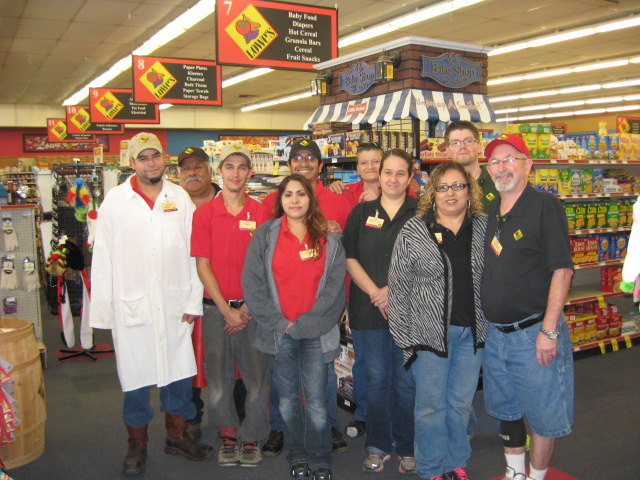 Left to right front row: Simon Garza, Ryan Miller,
Vanessa Richarte, Minnie Lara, Linda and Johnny Acuff
Left to right back row: Oscar Najar, Codie Porras,
Jonna McDonald, Daniel Kellogg
The Chamber of Commerce would like to recognize Lowe's Market as our Business of the Month.
Lowe's first store opened its doors in Olton, TX in 1964. Lowe's has now grown from one store to 152 stores throughout Arizona, Colorado, New Mexico, Texas and Kansas. Lowe's Market includes Lowe's Super Market, ACE, Lowe's Big 8 Food Store, Lowe's Family Center, Fiesta Foods, La Feria, Lowe's Super Save, Mercado, Shop n' Save, Avanza and Lowe's Corner Market.
The Pay-and-Save, Inc. Supermarket chain d/b/a Lowe's has a rich family history that can be traced back to the late 1940's when E.M. "Bud" Lowe started his career by selling candy and sundries with only one truck distributing throughout the town of Littlefield.
The Lowe's grocery career began in 1964 with the purchase of their first store in Olton, Texas. Bud and his son, Roger, founded the company on the principle of taking care of the community, their teammates, and their family. It is this philosophy that has allowed the company to grow. In 1973, Bud Lowe passed away and Roger took the reins to develop the grocery stores into what they are today. Roger's strong belief in God and the importance of family values are the cornerstones of the Lowe's success.
Johnny Acuff manages the Ozona Lowe's. "Johnny has been in the grocery business most of his adult life", said his wife Linda. "He is very knowledgeable about the business."
The local Lowe's has 26 employees. A Manager, three Assistant Managers, four people in administration, three in the meat market, two in produce, four stockers, and nine cashiers. Ozona employees service an average of 890 customers a day or 6,230 people a week. "This number doubles during holidays and hunting season which runs from the first week in November to the last weekend in January." said Linda.
"We work very hard to satisfy all our customers. The Lowe's corporate office also sends out a Mystery Shopper every month to evaluate our customer service, cleanliness and friendliness. We have remained in the top 20 of all stores," said Johnny. "If there is an item that we don't normally carry, we can check to see if Lowe's carries it in stock and order it for you. We also compare our prices to our competition on a monthly basis and have found that we are in line with other grocery suppliers."
Customers visiting Lowe's can also earn points towards merchandise with their purchases. Throughout the year you can always find something being raffled off or given away. "We always have something going on throughout the year that allows us to interact with our customers," said Linda.

The Chamber of Commerce would like to recognize Lowe's Market for their continued effort to provide quality service and for being an asset to the local business community.
Lowe's Market is open seven days a week from 7:00 a.m. to 10:00 p.m. For more information, you may contact Johnny or Linda Acuff at 325/392-3324.

---

Print Friendly